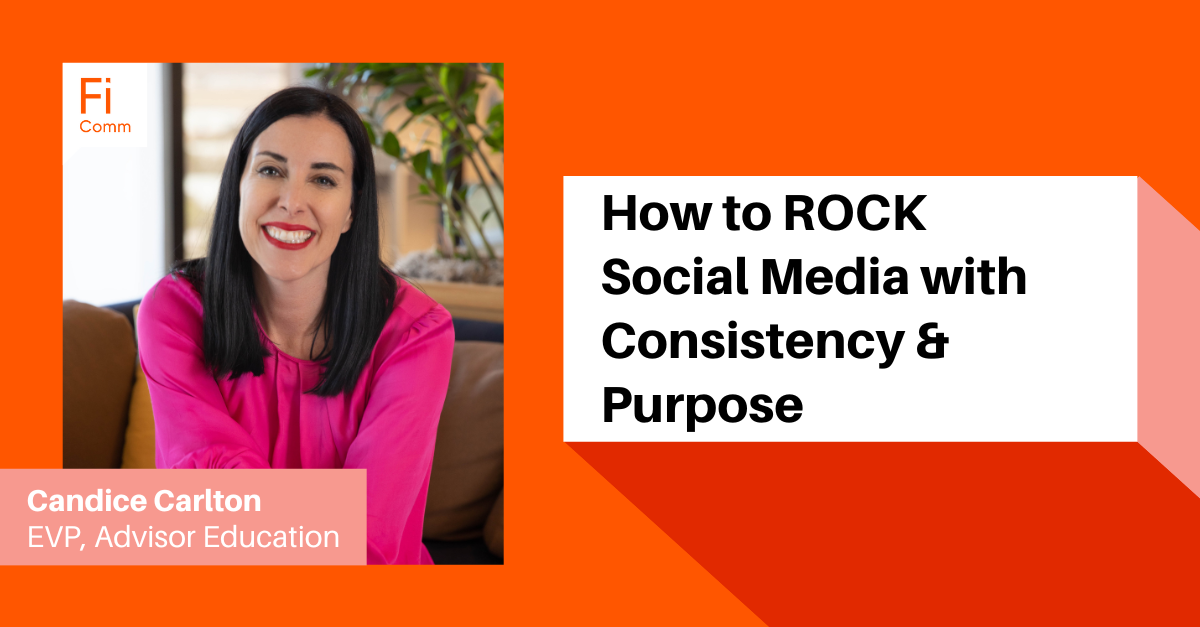 How to ROCK Social Media with Consistency & Purpose
Thinking about creating social media content consistently can feel overwhelming!! And you may be wondering if it's even worth it?
The important thing to keep in mind is that social media doesn't drive ROI on its own. It's just one of the many touch points and opportunities to showcase value to potential clients when they are considering a financial advisor. When done well, social media can inspire prospects to return to your profile for more content, subscribe to your ongoing long content (like a podcast/blog or YouTube) and maybe even check out your website.
When Michelle Smalenberger, CFP®, co-founder and financial advisor at Financial Design Studio, and her husband launched their business seven years ago, they knew they had to let people know the business existed and was ready to serve clients. But how? Well, it started with consistent, high-quality social media content.
Michelle joined a FiComm Partners Marketing Masterclass to share her journey from marketing newb, through finding her stride (and preferred media), and becoming an industry-leading social media content creator, beautifully illustrating how this strategy works and drives growth.
Why Social Media Is Important
Consistently posting valuable content helps advisors expand beyond their personal networks to reach ideal clients at scale. Years ago, Financial Design Studio made the strategic choice to use short video lessons as its primary outreach tool. The decision has paid off big time. Their YouTube-first content strategy has:
Elevated the firm's discoverability across search platforms. People interested in the company's services are now far more likely to stumble upon it through search.




Served as an organic "conversation starter" ahead of the first in-person meeting with new prospects.

Inspired people to ask the firm for help on the videos' topics, including services the company offers but doesn't actively promote.
How to Leverage Social Media Successfully
Getting started with content creation, whether it's blogs, videos, podcasts, or social media can feel intimidating, especially if you've never done any marketing before. The pressure can increase when you think about creating content, with intention and purpose, on a consistent cadence. So, let's break it down.
Just do it – then refine
When Michelle and her team first started marketing the firm, they initially followed the trend among entrepreneurs; they thought they "needed" a blog. She soon came to realize that blogging wasn't authentic for her. As she and her team worked to edit and refine written content, they soon realized that she not only felt more comfortable, but was more approachable, fluent, and accessible talking about the topics her clients care about. So, they pivoted their efforts and resources to video. As an added benefit, people get more of you in video format. They see your expression and gestures while hearing the tone an inflection of your voice. They may recognize regional accents.
First, make content for your clients. The key to creating the content they want is to listen. What do they ask about? What do they talk about? Ask them what they want to hear about/learn about.
Second, think about your clients' and prospects' overall experience – it's not just LinkedIn. You can create multiple opportunities for your clients and prospects to interact with your content. For example, you might create content for Facebook, X (fka Twitter), Instagram, or TikTok. One more perk of all these social media touchpoints is indirect access to your clients' digital network.
If this sounds like a lot of content – we have some great news for you.
When you use a long form content strategy, your content makes content. As Michelle's video content strategy took off, she discovered that she could clip and convert her videos into video shorts and text graphics for social media platforms. She pulls transcripts from the videos and turns them into blog posts. Just one recording turns into several pieces of content that extends its reach and provides more opportunities to read, hear, and interact with Michelle.
Post consistently
According to Michelle, the key to success is determining a sustainable cadence and sticking to it. Like the best workout, the best content strategy is the one you do consistently. If creating and posting a video once a month feels reasonable, that's a great place to start. Once you get comfortable with creating content regularly, you can increase your cadence or expand your content creation into the other channels.
Michelle explains why consistency is so critical to your success. "As you post high quality content on a consistent basis, your clients will come to depend on you for regular content. It shows them that you are reliable and that they can count on you. It doesn't need to be a big lift."
Think ahead
Planning ahead can relieve the pressure to create. Start with achievable goals. Michelle may be planning her content out six months in advance now, but when she started, she planned her videos out for a month. Planning ahead gives you time to think about your topics in advance, collect your thoughts and figure out what you want to say. Some people like to script out their videos while others prefer to outline and talk around their key points. Engage in a little trial and error to figure out what works for you.
Planning ahead can also help solve procrastination. You see, the longer you wait, the more stressful the process. What's worse, when you're stressed out or rushing to complete your recording, the quality of your content could be affected.
We recommend recording at least two weeks ahead of posting. This gives you time to be yourself, talking freely around the topic with plenty of time to edit the footage into a polished, professional video AND collect the clips you'll need for other channels.
Another tip for making your content creation efficient is batch recording. If you've identified the topics you want to cover over the next month and have thought about what you want to say, block out time and record everything in one session. This optimizes your time, so that you can focus on your clients and other responsibilities.
Review, refine, and grow
Financial Design Studio has reached a stage where they plan the timing and content segmentation for various platforms such as LinkedIn, their blog, YouTube, email, and Facebook. They have flown through the early days of turbulence and leveled off at a steady cruising altitude. In the seven years she has been running her business, they have published more than 300 videos. They have built a process they can follow to achieve economies and efficiencies. That doesn't mean they can set their marketing efforts to autopilot, but they can take more time to appreciate the view and survey the landscape to better serve their clients.
Inspired by Michelle's story? You can rewatch the Marketing Masterclass here!