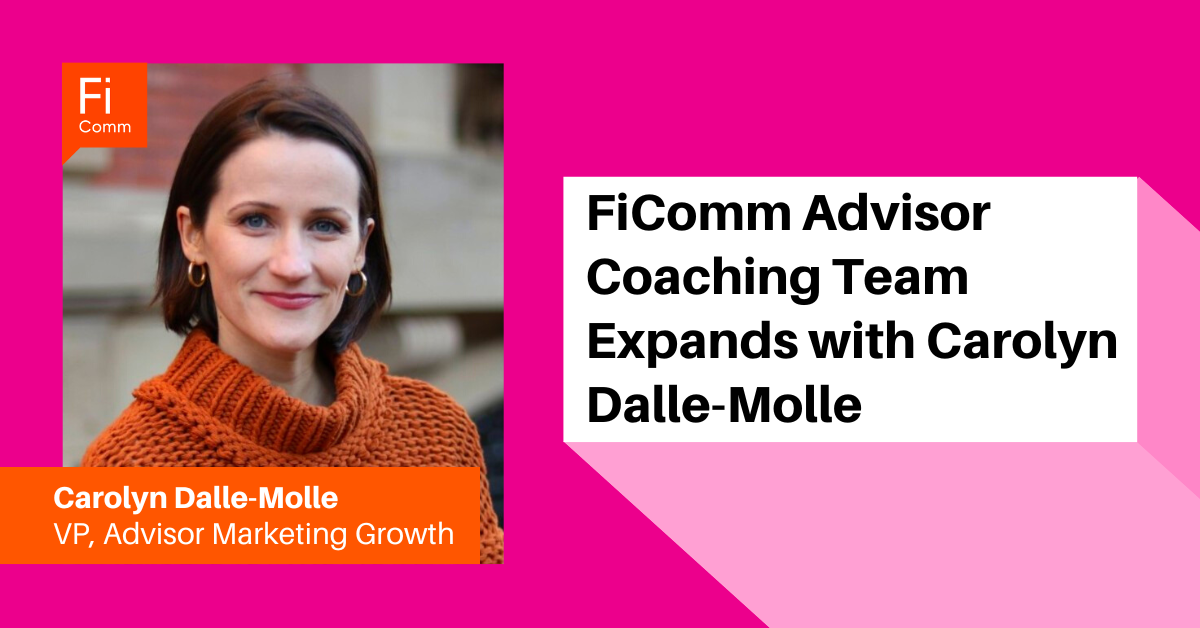 FiComm Expands Advisor Coaching Team
The advisor of today knows that they need to be digital to connect and GROW. They also know that adopting a human-first approach is critical to stand out of the "sea of sameness." And yet, most aren't sure where to start.
Self-paced digital courses offer no accountability, peer support, or real-time coaching and expert guidance has traditionally been accessible to large platforms and RIAs.
FiComm's Advisor Marketing Bootcamp, a 12-month marketing coaching program, was born out of the need to provide advisors with actionable "how to" resources, expert guidance, and peer accountability to develop their unique message and master video, social media, and SEO to connect with their ideal client.
Launched in 2020, we have been incredibly excited to see the demand for this type of scalable solution continue to gain traction and with it a need to expand our bench of expert coaches. Previously a Marketing Coach with XY Planning Network, we are overjoyed to welcome Carolyn Dalle-Molle to our Advisor Growth Marketing team. This expansion will help us continue to offer even more advisors access to deep digital expertise and a framework to find solutions that are unique to the type of business they run and the type of client they want to serve.
Please join us in welcoming her to FiComm and check out the video below to find out why she joined FiComm, her top #3 tips to advisors who want to rock Marketing to grow their firm, and even a previous New Skool episode on her approach to coaching advisors.
Why Carolyn joined FiComm:
The biggest tipping point for her, she says, was FiComm's human-first approach with heart-centered communication. In the post-digital age, authenticity is everything. There is a shift happening in our industry, where advisors are leading with a "pre-internet" approach to connecting that leverages today's digital advancements to level up the client experience. FiComm is at the forefront of this movement.
Carolyn's top 3 things advisors should be doing right now to market and grow their brand:
Constantly imagine your ideal client. "Whether during down markets, up-markets, before and after elections, tax time, end of the year, mid-year, and everywhere in between, you should always envision what your ideal client is thinking and feeling," Carolyn says. "What are they doing right now? What worries them? Staying connected to your ideal client helps you better understand where they go for information and when, who they ask for advice, and most importantly, how you can proactively be there to meet them."
Launch what you want to talk about! "Advisors are wired to be perfectionists, and with good reason! Unfortunately, when it comes to launching a marketing campaign or creating content, that sometimes means overthinking and making countless edits. In this space, don't let perfect be the enemy of good! Just go for it and stay in action! Launch what you want to talk about and stop missing out on opportunities to connect!"
Set your expectations before you launch. "A key reason that some advisors are still skeptical about marketing is because there is this perception that their efforts aren't measurable. That's a myth! Setting expectations for success is up to you, so ask yourself, "what do I want from this?" Set measurable goals for whatever you do, as well as a timeline, so that you can see what worked and what maybe didn't work as well as planned. This can help you set a reasonable ROI for your efforts."
If you'd like to see Carolyn in action and get a sneak peek of her coaching style, check out Episode 13 of The New Skool podcast, when Carolyn and her former colleague, Arlene Moss, from XY Planning Network appeared as our guests!
And be sure to register for our master class, where Carolyn will be sharing her insight for growth marketing! You can contact her directly at carolyn.dallemolle@ficommpartners.com.